furniture & object

F-21-003, 2x4 table

a small table made from milled 2x4 and 3/4" dowell. a large surface is created reflecting the varying grain of 2x4's. chunky legs are attached with a dowel.

pine, 15" x 15" x 16"

F-21-003, bedside table

bedside table made from varying dimensions of lumber. all joints are flush cut to create seamless transition between members.

oak, 20" x 14" x 16"
F-21-002, pipe

a little pipe that is seemingly a small offcut of wood.

oak, 1-1/2" x 1" x 4"

F-21-001, scrap chair

A chair made from offcuts and pieces of scrap for daily shop use.

pine, cedar, poplar, walnut, & baltic birch plywood, 15" x 18" x 34"
F-20-006, coffee table

A large coffee table made from different woods. each of the three legs is a differentsize and material.

oak, maple, and walnut, 30" x 48" x 16".
F-20-005, small tables

various sized small oak tables with random legs. these tables have similar languages of construction but are made at different size and scales. these tables can nest or act separately.

oak, dimensions vary.
F-20-004, wall shelves

wall hanging shelves are made for a very tall ceiling room.

ash & brass screws, 52" x 9" x 5".
F-20-003, small tables (filleted edge)

two small tables with filleted edges to make unual and playful shapes. these tables can nest or act separately.

ash & pine ,14" x 14" x 12" & 12" x 18" x 8".

F-20-002, sunset quilt

patchwork quilt in fuscia, cream, brown, tan, and beige. inspired by various shapes, this quilt resembles a countryside village.

cotton fabrics & cotton batting, 74" x 86".
F-20-001, patchwork tote

a small patchwork quilted tote is inspired by beachside awnings, rugby jersey's and fumigation tents. made in small batches these totes have varying color combinations.

cotton fabrics & cotton batting, 14"x 20".
F-19-004, big ash table

a large ash coffee table is made from four large planks of ash. a large hand drawn shape is then carved into the plank. large dowels pierce through the planks at the corners.

ash, 40" x 40".
F-19-003, chonk chair (chair 04)

inspired by plank masters donald judd, enzo mari, and lina bo bardi, this chair has forms similar to those found at a lumber yard. it has simple plank seat and 2x4 dimension backrest and dowels supports as legs.

oak, 18" x 18" x 32"

F-19-002, wall mounted coat rack

simple dowels are driven into a plank of wood at an angle to act as a coat rack.

ash, 48" x 7-1/2" x 1-1/2"
F-19-001, spill quilt

a large patwork quilt made of green, beige, and grey fabrics. resembling a spill of water over a checkered pattern, this quilt was research into percise quilting around curves.

Cotton fabrics & cotton batting, 60" x 80"
F-18-007, plasma cut shelf

this shelf part of a continued experiment in drawing furniture. using the plasma cutting torch i hand drew each shelf, leaving the raw edge of plasma. then, each shelf is pierced with metal rods.

powder coated steel. 72" x 72" x 14"
F-18-006, pink gum shelf

this shelf is part of a continued experiment in drawing furntiure. using the bandsaw, i hand cut each shelf to a free-form shape. metal rods pierce each sheet to form a shelf.

powder coated stee. 60" x 36" x 14"
F-18-005, slightly-off lounge

a lounge chair is made from a piece of bent laminated ply. combining a side table with a lounge chair a new asymetrical seat is formed. legs pierce the seat at random moments and are carved back to reveal the endgrain.

bent laminated baltic birch ply & maple dowels, 48" x 36" x 30"
F-18-004, braided rugs

three different sized braided rugs were designed to act as one arrangement. using the technique of brading rugs these braids follow curved edges and are stitched together to form unusual combinations of semi circles and square edges.

wool yarn & synthetic thread, varying dimensions.
F-18-003, macaroni vase

a steel elbow is sanded and powder coated. it looks like a big macaroni.

powder coated steel, 8" x 4" x 3"
F-18-002, osb vessels

varying sized vessels are made to follow the similar language of braided rugs and macaroni vase. using the cnc, shapes are carved into stacked osb re-appropriating a conventional construction material into refined objects.

oriented strand board (osb), varying dimensions.
F-18-001, dowel object set (screw-it!)

a chair, coatrack, and magazine rack are made using a similar system of construction. the joint is made of a birdsmouth and a screw. canvas slings and formica laminated plywood aid the dowel system.

poplar dowels, canvas, formica, baltic birch plywood, varying dimensions.
F-17-006, charchuchie board

a small board is made for all your chopping needs. this is a cheese board or a cutting board, your choice.

ash, oak, or walnut, varying dimensions.
F-17-005, cabbie

this cabinet is composed of two different boxes simply sitting on a platform. the platform acts as a base for which the furniture parts can be re-arranged. one box is a drawer while the other box is a cabinet with a door.

beech with vegetable tanned leather pulls, 48" x 18" x 24"
F-17-004, not fine lamp 3000

a continued experiment from the not fine lamp. this lamp has a madusa of light bulbs with a base meant to be storage for books. multiple switches control the independent light bulbs with wires flowing in every direction. this lamp embraces mess.

pine, fabric chorded wire, electrical wiring, pine dowels, 18" x 14" x 40"
F-17-003, not fine lamp

this lamp aims and redefining what 'fine' can be. imitating offcuts of dowels, this lamp is simple 4 dowels that are arranged in a thrown together fashion, an indepeendent wire snakes through the assemblage.

pine dowel, chorded wire, electrical wireing, 10" x 20" x 36"
F-17-002, sheet seat

a sheet of metal is curved to resemble a seat. the heavy gauge steel sheet has some give when leans back but maintains a very thin profile.

12 gauge steel, 36" x 30" x 20"
F-17-001, butt brush

a large sculptural hand broom with a supple grip.

maple, 9" x 6" x 2"
F-15-002, leather lounge

a leather slung chair uses different types of joinery to capture a comfortable leather sling.

white oak, leather, 28" x 32" x 32"





architecture & spaces

A-20-001, house in surf pines, surf pines OR

a house on the oregon coast designed for a growing family. With flexible accomodations this small vacation home uses simple construciton means to create unique interior conditions. designed in collaboration with zeke jones and julia martinelli.
A-18-001, shrine to an urban forest

providence, rhode island
shrines are built around the world to honor the spiritual states in many religions. this shrine honors the commonality of the everyday. using construction that would be found typically in a fence, this shrine expands the condition of a fence as a lot line into an other worldly zone.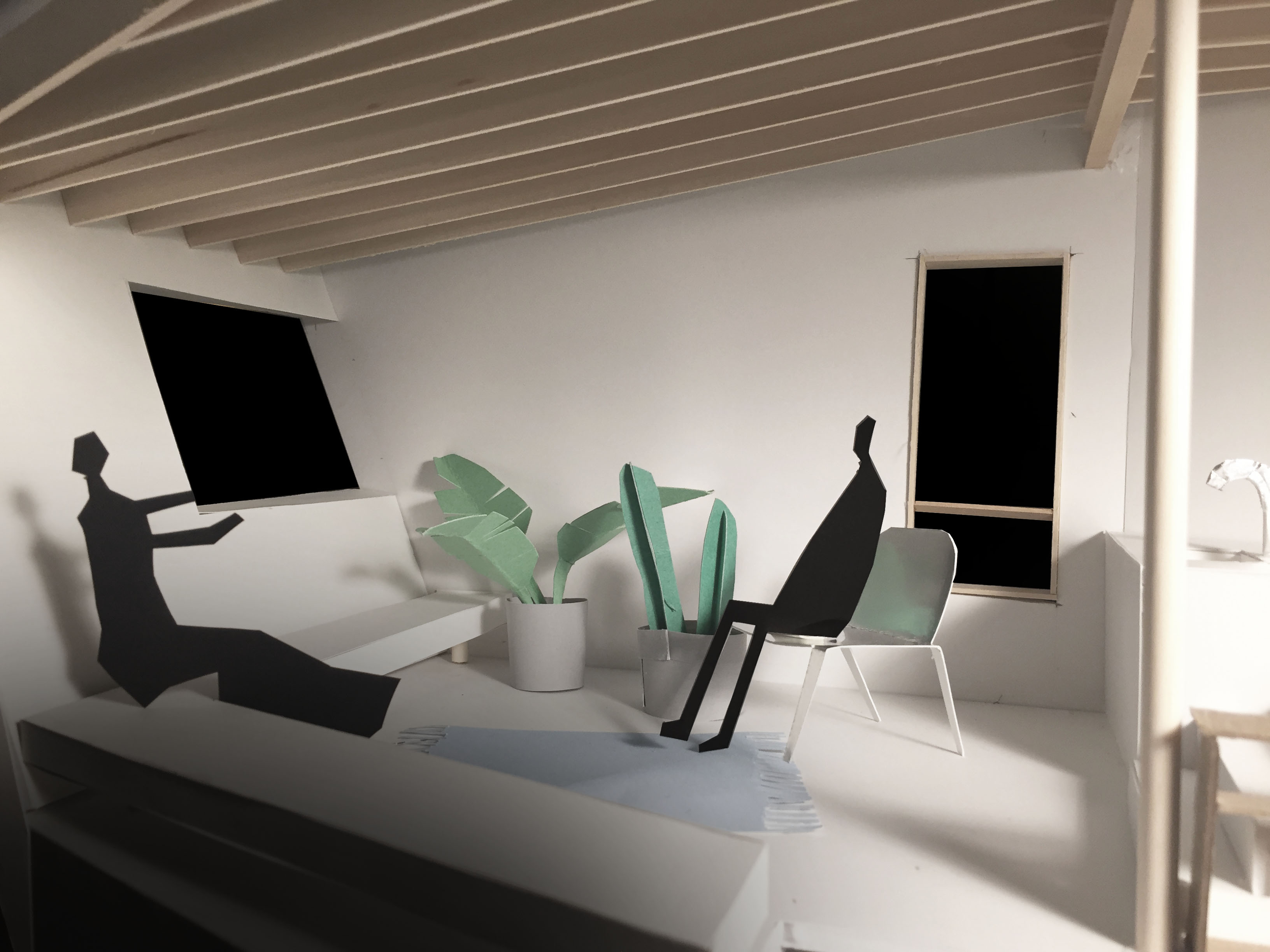 A-16-001, house for a writer, olympic penninsula, washington state

A very small house is designed to accomodate the basic needs of a writer in the olympic pennisula. the small space is divided into few rooms that have diverse light conditions.
A-15-003, photo collage, washington state

various collage explore housing density throughout suburban washington state.


A-15-002, floating pavilion, tonle sap lake, vietnam

A floating pavilion is designed as a beacon for safe waste and health practices in a rural floating village of vietnam. designed in collaboration with zeke jones and wenjing zhang.

A-15-001, festival pavilion, aarhus denmark, 2014

A small festival pavilion is created using cnc'd plywood. a unique joint allows the flexibility of multiple systems. designed in collaboration with nick förster and caroline bruhn.






curatorial & writings
C-19-002, mild & wild (book), risd thesis show

a collection of writings, images, thoughs that surrounded my brain while compiling a body of work at rhode island school of design. this book highlights on process, inspiration, and direction of work produced throughout the two years at risd.

print, 6" x 4.5"
C-19-001, mild and wild (show), risd thesis show

a show of the final physical work while at rhode island school of design.

upholstered lounge, big ash table, spill quilt, pink gum shelf, plasma shelf, woven rugs, butt brush, macaroni vase, & chonk chair.
C-18-001, risd grad biennale, object set

a grouping of objects with similar languages.

woven rugs, butt brush, osb vessels and macaroni vase.